In our previous post, we introduced you to some of the food trends we've been tracking for 2014.  Recently, we asked some of our industry colleagues to comment on how they are already incorporating current trends into their events or to make their own predictions for hot new ideas.  Here's what they had to say.
Trend:  Celery
At Your Event:  Chap Gage of Susan Gage Caterers predicts that celery is going to be the newest veggie Chefs and mixologists alike will be elevating and highlighting.  He has created two custom cocktails featuring this often over-looked green that can pack a mighty punch of flavor.
Celery-Aquavit Martini
2 oz. Linea Aquavit
1 oz. Celery simple syrup
.5 oz. Dolin Blanc
Top off with soda water
Garnish with celery
Rim with smoked sugar
Celery simple syrup
1 Cup water
1 Cup Sugar
3 stalks of celery (chopped)
Boil water, add sugar until dissolved, add celery and simmer for 10 minutes
Strain and allow to cool (will last in your fridge for a couple of weeks)
Muddled Celery Greyhound
2oz Jensen Gin
2oz Fresh squeezed grapefruit juice
Small handful of celery greens
Muddle greens in bottom of a rocks glass
Add ice
Add juice and gin
Lightly stir
Trend:  Cauliflower
At Your Event:  Wolfgang Puck Catering at The Newseum offers a delicious and unique first course highlighting the media's pick for veggie of the year.  The Roasted Cauliflower Soup with Indian Spices shows just how versatile this pale sister of broccoli can be.
Trend:  Artisan Gin
At Your Event:  Occasions Caterers has been noticing an increase in custom cocktail bars at events.  To highlight this year's trend of artisan gins, offer a selection of small batch gins, including DC's own Green Hat Gin.  Then, invite your guests to mix their own cocktail with an assortment of options like housemade syrups; fresh herbs and berries; citrus peel ribbons; lemongrass sticks and candied ginger batons, small batch tonics, fresh squeezed juices and more.
Trend:  Juicing
At Your Event:  Kimpton properties across the country are now featuring fresh juice menus, and The Hotel Monaco Baltimore's Juice Caboose Break offers a fresh and healthy option for meetings and events.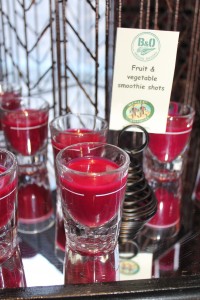 Trend: Hyper-Local
At Your Event:  Farm-to-table dining and local, seasonal, green events continue to grow in popularity. Some venues are going beyond sourcing at local farms and actually growing their own produce.  The Hay Adams Hotel recently announced a "partnership with the University of the District of Columbia's College of Agriculture, Urban Sustainability and Environmental Sciences (CAUSES) to serve locally grown produce from its Muirkirk Farm. The farm uses sustainable growing methods to produce a range of fresh herbs and vegetables including ethnic crops not native to the US, but that can be grown locally."