Last week, my best friend and I flew down to Costa Rica for a few days to celebrate her birthday.  It was a spontaneous trip, so I went knowing very little about the country and what to expect.  I was overwhelmed by the abundant natural beauty, friendliness of the people and dramatic vistas from every turn.  The Costa Ricans have a saying "Pura Vida."  Roughly translated, it means "pure life," but I was told it also encompasses the idea of living full of life.  It's a motto that resonates deeply with me.  They've made a drink by the same name and after a few of these, anyone would start to fantasize about moving to Costa Rica permanently.
Many of you may know that Costa Rica is considered a top honeymoon destination because it offers both serene, beautiful beaches (that many brides envision for their honeymoon) and fun activities (for the grooms).  Costa Rica has big brand resorts smaller, boutique resorts, as well as luxury vacation villas.  There are indulgent spa treatments and adrenaline-spiking outdoor adventures.  The wildlife is exotic and unique.  There really is something for everyone here!
I wanted to share just a few photos from my trip.   The sunsets alone are enough to get me back on a plane. Scroll down to see how Costa Rica inspired me to think about a destination wedding on the beach in Costa Rica.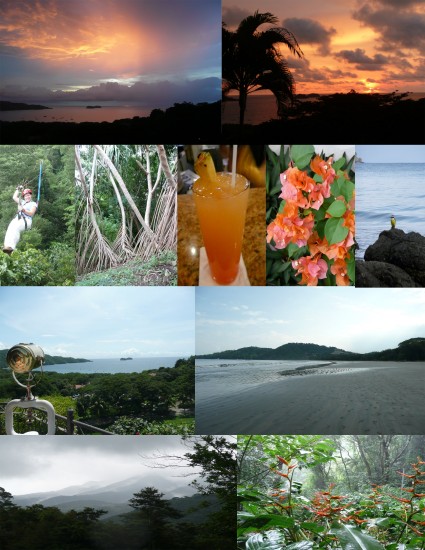 My idea of a fabulous wedding in Costa Rica: a romantic, barefoot ceremony, bright vivid colors incorporating the driftwood and tropical flowers that abound in the area and, of course, dining and dancing under the stars.