Here are just a few highlights from our lovely family vacation in England last month.
Harrogate
We spent the first part of our trip visiting Harrogate in North Yorkshire.  We lived here when I was a little girl and I loved sharing all my favorite places with my nieces.
Valley Gardens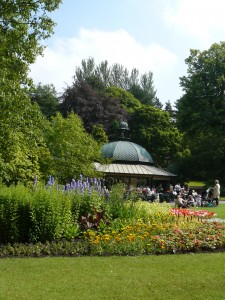 My brother and I used to play with toy boats in the boat pond when we were little and it's always a great place for a Sunday picnic.  One of my nieces' most favorite things about our entire trip was the zip line at their playground.  It's a fascinating learning experience seeing how differently playgrounds are designed in another country.  Even big kids can have fun at this one!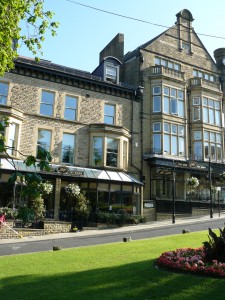 Betty's first opened in 1919 in Harrogate.  I could eat every meal here and just about do when I'm in town.  The Yorkshire Rarebit is our family favorite with heaping spoonfuls of Betty's tomato chutney.  I buy boxes of their tea and chutney when I'm there and online, so I can enjoy it all year.  I wish we had traditional tea rooms in DC.
In business since 1840, this is a must-stop for anyone with a sweet tooth.  Known for their toffees, my brother is obsessed with the Pear Drops, while I'm a huge fan of the Strawberry Bon Bons, Milk Caramels and Dolly Mix.
A fairly traditional British restaurant in a historic building.  Known for their seafood to most, the main reason I keep going back here is the Avocado with French Dressing starter.  There is a secret recipe for the French Dressing that no one can divulge.  It is AMAZING!
London
Buckingham Palace and Kate's Wedding Dress
Since 1993, Buckingham Palace opens its doors to the public for a few months.  As soon as we learned that Kate's wedding dress was going on display while we were going to be in London, we bought tickets.  The palace is as impressive as you would expect, but I was mostly overwhelmed by the beautiful collection of artwork on display.  It must be so inspiring to be surrounded by such beauty all the time.
As beautiful and fitting as I thought the gown was on TV and in pictures, my admiration significantly increased when I was able to see the very subtle details of the design and learn more about the process Sara Burton and her team went through to custom design by hand the lace patterns on the dress.  I'm also now the owner of an official ceremony programme in case any of my clients want to borrow some of their ideas.
This hotel just re-opened after a major renovation. The location, the interior design and the staff are all top-notch.  We literally felt like royalty during our stay (thanks again, Gary! (one of the fabulous Concierges)).  I would stay here again and again and plan to the next time I am in London.
Summer Sales in London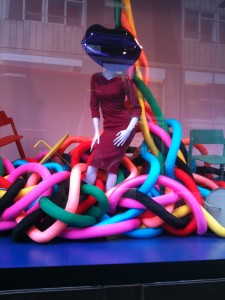 I had been on a shopping hiatus for months, the summer sales were coming to an end and the fashion trends were finally leaving the 80s behind.  Needless to say, I shopped like crazy.  Zara, TopShop and H&M continue to be great options for trendy pieces at affordable prices.  Even though these shops have U.S. outposts, the collections are quite different.  Miss Selfridges is still a favorite for me, as well as some of the UK shops like Whistles for classic pieces, L.K. Bennett for shoes, and Monsoon for flowy, bohemian dresses and tops.